At the Long Night of Ideas in 2018, Traduki filled the seats of Berlin's Cinema Babylon with literature aficionados and a list of eminent writers. This time, we turned things upside down. On 19th June 2020 we brought the seventh art directly into your living rooms!
On the menu: A selection of Southeast European films. We opened the night with the animated short Blind Vaysha, followed by the documentary The Final Adventure of Kaktus Kid. Later in the evening, it was up to the audience to decide, how they wanted to continue the night. One could choose between Borders, Raindrops and God Exists, Her Name is Petrunya, both wonderful feature films exploring different aspects of origin and belonging.
In addition, we had several live discussions and interviews with our guests, including Balkan Film Week curator Marija Katalinić, Berlinale-decorated director Teona Strugar Mitevska, and comic book artist Aleksandar Zograf on our YouTube channel. Cinematic pleasures could be had until midnight when the credits started rolling!
All Balkan Film Night Talks are still available to watch! Simply click on the talk buttons to the right or go directly to our YouTube channel.
Thank you to all participants for being part of this lovely event!
The Balkan Film Night is part of the Long Night of Ideas.
#LNDI2020
18:00 CEST
Opening – Online welcome with Marija Katalinić
Moderated by Barbara Anderlič
View Video
19:00 CEST
Interview with Georgi Gospodinov
Moderated by Hana Stojić
View Video
19:30 CEST
The Final Adventure of Kaktus Kid
21:00 CEST
Interview with Aleksandar Zograf
Moderated by Ivan Petrović
View Video
21:30 CEST
Discussion with Teona Strugar Mitevska and Vlastimir Sudar
Moderated by Marija Katalinić
View Video
22:00 CEST
God Exits, Her Name Is Petrunya
Blind Vaysha
Theodore Ushev, 2016, 8 min., short film
Canada
Original (English)
Production and distribution: National Film Board of Canada
Based on the eponymous short story by Georgi Gospodinov, the film tells the story of a girl who sees the past out of her left eye and the future from her right—and so is unable to live in the present. At the 89th Academy Awards in 2017 the film was nominated for Best Animated Short.
The Final Adventure of Kaktus Kid
Đorđe Marković, 2018, 62 min., documentary film
Serbia
Language: Original with English subtitles
Renowned comic artist Aleksandar Zograf stumbles upon an unusual comic book from WWII. The hero of the story is Kaktus Kid, a small cactus stuck inside its flower pot. Fascinated by this story, Zograf sets out to explore the life of Kaktus Kid's creator, the little-known artist Veljko Kockar. Zograf's research unveils an intricate and complex story. While Zograf is assembling tiny pieces of evidence, he comes up against his very own personal and artistic dilemmas: Why do these tiny drawings wield such power to console, and yet, also to fuel violence?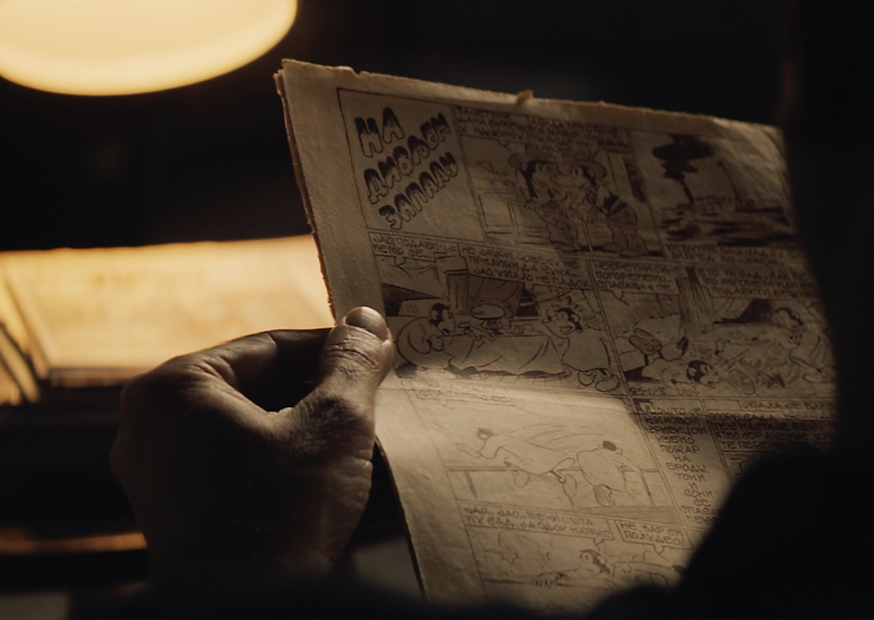 Borders, Raindrops
Nikola Mijović / Vlastimir Sudar, 2018, 94 min., feature film
Bosnia and Herzegovina / Montenegro / Serbia / UK / Sweden
Language: Original with English subtitles
A young woman from the city visits her family, high-up in the Balkan Mountains – an area bordering Croatia and Bosnia and Herzegovina, in which armed conflict has recently torn the communities apart. She brings a sense of hope, love and mystery to these almost abandoned villages overlooking the Adriatic. Will her presence help to bring people back together, so that they can live as one again?
God Exists, Her Name Is Petrunya
Teona Strugar Mitevska, 2019, 100 min., feature film
North Macedonia / Belgium / Slovenia / Croatia / France
Language: Original with German subtitles
Petrunya is 32 and unemployed; moreover, she has studied history, but no one in North Macedonia needs historians nowadays. During a job interview, a factory owner mocks her floral dress and refuses to take her seriously. Evidently, she does not get the job. On Epiphany, the old custom holds that the young men of the city must dive into the river in search of a holy cross, thrown into the icy river by the local priest. This time, Petrunya is quicker than everyone else, she plunges into the water, finds the cross and vows to defend it against everyone around her. The film had its première at the Berlinale 2019.
Participants
Barbara Anderlič
BFN Project Manager
Georgi Gospodinov
Author of Blind Vaysha
Marija Katalinić
Balkan Film Week Curator
Ivan Petrović
Translator of Zograf's Partisanenpost

Hana Stojić
Curator of the Common Ground Programme
Teona Strugar Mitevska
Director of God Exists, Her Name Is Petrunya
Vlastimir Sudar
Co-director of Borders, Raindrops
Aleksandar Zograf
Comic book artist and protagonist of The Final Adventure of Kaktus Kid
From Film Week to Film Night and Beyond
The Balkan Film Week in March 2020 served as the opening for the project Common Ground: Literature from Southeast Europe, which will present the West Balkans as the region in focus at the Leipzig Book Fairs 2020-2022. Its aim is to promote and further the visibility of Southeast European authors and their fascinating and diverse literature in the German-speaking world. The overall theme for the year 2020 is Origin and Belonging. And so, the eight films presented at the 2nd Balkan Film Week explored the ever elusive topic of being or not being this or that, and the question who is them and us. Two films from the Balkan Film Week programme are shown here and so we encourage you to revisit Marija Katalinć's wonderful introductory text to the film week:
Common Ground: Origin and Belonging 
The feeling and the knowledge of belonging is one of the most perplexing experiences in life. Although belonging seems like a question of personal matter, the verb a priori demands an addition to its own meaning; one needs to belongs to. To know that one belongs, such as to a group with which one shares values, characteristics and time and space experiences offers a sense of acceptance of being recognized as a subject of a certain origin. In this formulation, origin would relate to the "source", the site of one's belonging, which usually refers to instances such as family, nationality, state, society or culture. To belong to either of these groups may give one a deeper sense of feeling at ease or acceptance, but can also be a site of constant identity struggles or productive negotiations. Therefore, the notion of belonging was historically thought through the aspects of traditionalism, firmness and rigidity. This week's programme calls for a constant juxtaposition and convergence of those different dynamics within a framework of personal and shared cultures and histories. Having "roots" is often used as a linguistic metaphor: by representing soil and connection to the ground, it makes us think of linear history and stability. But the metaphor of a firm base, however, easily clashes with the notion of identity as a fluid matter in constant negotiation with what sometimes our affective self sees as "outside" influence. In that sense, belonging ultimately is something that is negotiated throughout one's life on various levels in different time frames, different places and with different people.
For the second edition of Balkan Film Week, this year's theme "Common Ground: Origin and Belonging" will screen films that speak about the complexities of the narratives which constitute an identity in a layered geographical space of the Balkan region. In three days, the audience will be able to see and think about different levels of belonging that not only converge in the mentioned region, but can be put in relation to most spaces and places around the world. The level of belonging stem from that of belonging to a family; belonging to the country of birth or wanting to belong to a country as a migrant, refugee or an asylum seeker; belonging to a certain religion and restating your religion; belonging to a sexuality and of a gender; belonging to a certain culture. This year's eight films will inspect and discuss the levels of struggle and compromise that is inherent in the concept of belonging which by the very nature of inclusion of certain traits excludes other. This dialectic of simultaneous inclusion and exclusion is unavoidable topic in today's globalized world of ever firmer inner boundaries.
Marija Katalinić, Balkan Film Week Curator
Illustration: Lea Zupančič

Design (postcard and banner): Janett Andrejewski